Competitive Training Program (CTP)
An intentional and structured coaching and training program launched in 2022 to achieve competitive paddling success for all ages and experience. The program can be defined as:
Athletic

– Program will be structured and disciplined to develop a shared paddling technique and a training regime to increase fitness and strength to elevate boat speed.

Selected

– Boat crews will undergo a selection process by the coach to establish teams for best chance to win CORA Cup races.

Big Water experienced

– Training will seek to include rough water ocean opportunities as much as we are able so that we can become increasingly familiar with ocean conditions. 

Ultralight Equipped

– Members will advocate for and lean into adding ultralight racing (150lb) boats to the clubs fleet of outriggers.
Our 2023 season – 3 CORA Cup wins!
Our goal for the 2023 Cora Cup Season was to win one CORA Cup.  CORA, the Canadian Outrigger Racing Association, works with OC clubs to create four long distance races over the summer months.  Crews race each race to accumnlate points.  The team with the most points wins the CORA Cup.  Among the 30 paddlers available in CTP we built 3 teams to compete in the CORA Cup races:  FLCC CTP Mxed 70+ (SPEC), FLCC CTP Mxed 60+ (SPEC) and FLCC CTP Mxed 50+ (SPEC).
As it turns out, to our great excitement, each team accumnlated enough points to win a coveted CORA Cup.  It was a most successful start and thrilling start for CTP.
Coaching
Sherry Hunt is the hired coach. She is an outstanding paddler and has become a winning coach. Her website Sherry Strength offers a full biography and philosophy. She will shape the program around three stages to ready teams for competition.
Paddle technique and fitness

– OC6 racing success is a combination of blend and strength with blend being primary. Training will include on the water and off the water training.

Team Selection

– Crews and their positions will be selected by the coach on the basis of technique, time trials, and other factors including team behaviour.

Race Prep and Races

– Teams will be prepared for upcoming races.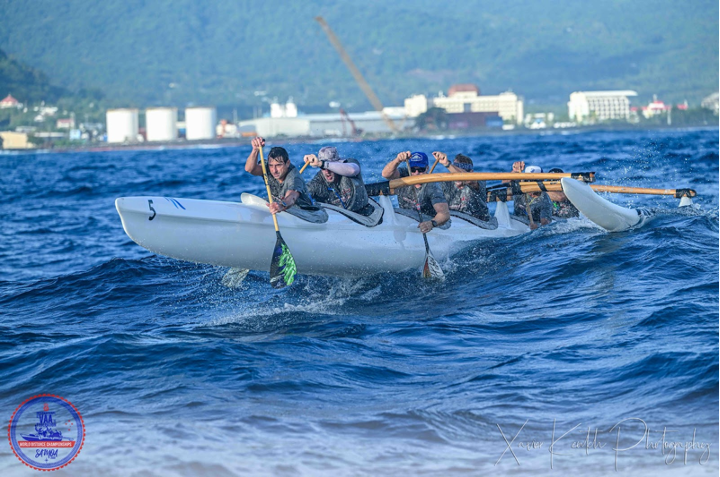 Races
Races can include local, regional, national and international races. FLCC hosts at least two races a year along with some fun regatta opportunities. Then there are multiple local races hosted by OC clubs across BC. Some of them are uniquely challenging and opportune for our racing program. Primarily our focus is on winning the annual CORA Cup series which is a series of four long distance races in BC. Each team seeks to accumulate points to become the national champion.  Added to this are splendid international opportunities to race with Canada's national team.
Membership: 
CTP is open to all 19+, male or female, and all skill levels. Members will be required to become members of both FLCC and Canadian Outrigger Canoe Association (CORA). 
Program Costs
The costs will be distributed evenly among all the program members. Costs will include coach fees, OC6 boat rental, coach boat rental, team snap fee, race fees and race day travel. The program also includes OC1 training opportunities and unless you own an OC1, you may want to access club boats (optional) to join in these options trainings.
Schedule
We will begin October 1, 2023. Last season we had two boats for a 11:00 coached practice and two boats for a 1:00 pm coached practice. We also added an informal and optional OC1 practice on Sunday afternoons which we hope to replicate and expand by added a weekday OC1 optional.  We will likely add weekday practice opportunities for team members who want to add practice times or who are not part of other OC teams..  
Team Leadership: 
Captain: Jim Heuving (jim.heuving@gmail.com)

Boat Management: Francine Seaman

Race Registration: Bob Anderson

Treasurer: Jonathan Wilkins
Apply Here <link to application>